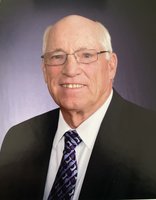 Charles E. Lefever
Charles E. Lefever, 74, of Manheim, PA, passed away peacefully on Tuesday afternoon, December 8, 2020 at Bob Fryer and Family Inpatient Center of Hospice and Community Care in Mount Joy. Born in Manor Twp., he was the son of the late Ernest and Anna Mary Garber Lefever. He was the husband of Esther S. Martin Lefever for 53 years on March 11.
Charlie was an active member of Chiques Church where he served as an usher, as the president of the cemetery board, and was happy to help wherever needed. He spent the first 33 years of his married life as a farmer, most of which was on their farm in Rapho Township. After selling the farm, he enjoyed working at Messick's Equipment in Elizabethtown for the past 20 years.
Charlie's passion was spending time outdoors and appreciated God's creation while hunting, fishing, and riding his Can-Am motorcycle with Esther. He was also known for seeking out conversation nearly everywhere he went and will be remembered for his genuine interest in others and for his smile.
In addition to his wife, he is survived by a son, Andrew, husband of Sheila L. Balmer Lefever, of Manheim; two grandchildren, Kendra and Colton Lefever; and four siblings, Harold Lefever of Sioux Falls, SD, Barbara, wife of Anthony Zaya, Paul Lefever, and Robert Lefever, all of Lancaster. He was also preceded in death by a brother, Raymond Lefever.
A memorial service will be held on Sunday afternoon, December 13, 2020 at 4:00 PM at Chiques Church, 4045 Sunnyside Road, Manheim, PA 17545. There will be no viewing. The family will receive guests at the church on Sunday afternoon from 2:00 PM until the time of the service. It is preferred that guests wear masks while other measures will be taken to accommodate those who may have concerns. For those not planning to stay for the service, please attempt to visit early; for those able to stay for the luncheon, please consider only greeting the family after the service. If desired, contributions may be made to Chiques Church, earmarked for the food box ministry, or to Hospice and Community Care, PO Box 4125, 685 Good Drive, Lancaster, PA 17604. To express a condolence with the family or to watch a webcast of the service beginning Monday morning, visit www.spencefuneralservices.com.