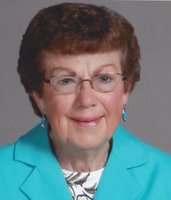 Lois M. Killian
Lois M. Killian, 82, of Lititz, PA, formerly of East Petersburg, passed away on Sunday evening, March 14, 2021 at Bob Fryer and Family Inpatient Center of Hospice and Community Care in Mount Joy following a brief illness. Born in New Providence Twp., she was the daughter of the late John S. and Verna Mae Chandler Killian.
Lois was a 1956 graduate of Solanco High School. She was a member of Hempfield Church of the Brethren in Manheim where she served as a deacon and sang in the church choir. She also served on the Atlantic Northeast District Women's Fellowship Cabinet. In addition to Bible study, she enjoyed taking walks for pleasure. Prior to retiring in 2006 as an office manager, she was employed for 46 years by Flex Steel Industries in Lancaster.
She is survived by four brothers, J. Ronald, husband of Vivian Killian, of Manheim, Kenneth L. Killian of Lancaster, William W. "Bill", husband of Marilyn Killian, of Stevens, and Robert E., husband of Nancy Killian, of Gallitzin; a sister-in-law, Sharon Killian of King, NC; and nine nieces and nephews, Kim Killian Ream, Craig Killian, Tammy Killian Blaylock, Douglas Killian, Cara Killian Menza, Adena Killian Smith, Chelsea Killian Murphy, Megan Killian Flick, and Amanda Killian. Also surviving are several step nieces and nephews and great nieces and nephews. She was also preceded in death by a sister, Nancy J. Killian, who died in her childhood, and a brother, Harold R. Killian.
A memorial service will be held on Saturday afternoon, April 10, 2021 at 1:00 PM at Hempfield Church of the Brethren, 1186 Stevens Street, Manheim, PA 17545 with Pastor Doug Hinton and her niece, Kim Killian Ream, officiating. Interment will follow in Mechanic Grove Church of the Brethren Cemetery, Quarryville, PA. There will be no viewing. The family will receive guests at the church immediately following the service. CDC protocols for masks and social distancing will be followed. If desired, contributions may be made in her memory to the benevolent fund of Hempfield Church of the Brethren or to Hospice and Community Care, 685 Good Drive, PO Box 4125, Lancaster, PA 17604. To express a condolence with the family or to watch a webcast of the service beginning the Monday following the service, visit www.spencefuneralservices.com.