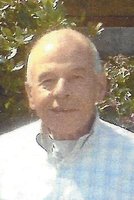 Paul H. Erb
Paul H. Erb, 80, of Manheim, PA, passed away on Saturday morning, March 27, 2021 at Pleasant View Retirement Community. Born in Rapho Twp., he was the son of the late Rev. John H. and Esta B. Hollinger Erb.
Paul made his home in San Francisco for over 50 years prior to returning to Lancaster County. He was employed by the Ralph Lauren organization working in a designer clothing warehouse. In addition to bicycling, Paul was an avid reader and enjoyed acquiring collectable books.
He is survived by six siblings, Nancy Stoltzfus of Lewisburg, Kenneth Erb of Denver, CO, J. Henry, husband of Peggy Erb, of Manheim, Janet Erb of Lancaster, Leroy, husband of Rachel Erb, of Milton, and Rebecca Sue, wife of Randy Reed, of North Carolina. In addition to his parents, he was preceded in death by a sister, Phoebe Gallagher.
There is no public viewing. Private interment will be in the Buffalo Mennonite Cemetery, Lewisburg, PA. To express a condolence with the family or for additional information, visit www.spencefuneralservices.com.