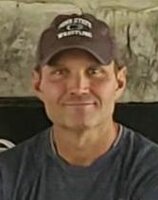 Craig E. Peachey
Craig E. Peachey, 55, of Elizabethtown, PA, formerly of Belleville, passed peacefully into the arms of our Lord and Savior, on Sunday afternoon, October 3, 2021 at Hershey Medical Center. Born in Lewistown, he was the son of Erma G. Gingerich Peachey and the late Chester M. Peachey. He was the husband of Betsy A. Fazenbaker Peachey for 30 years on February 16.
Craig embraced a spirituality centered on the biblical teaching that "God is love." He was a loving and gracious husband and father. He was employed for 26 years by Arconic in Lancaster, most recently as a Senior Mill Technician. It was his privilege and joy to pass on his vast mechanical knowledge to his sons and, as he called them, the "young bucks" at Arconic. Previously, he was a welder and fabricator for Greiner Industries in Mount Joy. In addition to gardening, fishing and hiking with his dog, Levi, he enjoyed sharing his PA Dutch heritage of preserving food with his family. A jack of all trades, he could fix anything. He was also an avid Penn State wrestling fan.
In addition to his wife and mother, he is survived by three children, Dane Curtis Peachey, Liza Audrey Peachey, and Collin Paul Peachey, all of Elizabethtown; his father-in-law, Richard V. Fazenbaker of Elizabethtown; and five siblings, Evelyn, wife of James Roberts, of Milton, Elwyn, husband of Jo Peachey, of Selinsgrove, his identical twin Curtis Peachey, who has since passed, husband of Joyce Hostetler, of Mount Joy, Cynthia, wife of Ronald Neff, of Lewistown, and Carmen, wife of the late Frank J. Piperata Jr., of Warwick, RI. Also he is survived by 20 nieces and nephews and 11 great nieces and nephews. In addition to his father, he was preceded in death by his mother-in-law, Erma R. Fazenbaker; and a brother, Clifford E. Peachey.
A gathering to celebrate the lives of Curt and Craig will be held on November 6, 2021 at West Green Tree Church of the Brethren, 740 Greentree Road, Elizabethtown, PA 17022, at 10:00 am. If desired, contributions may be made to West Green Tree Church of the Brethren, 740 Greentree Road, Elizabethtown, PA 17022. To express a condolence with the family or to watch a webcast of the service beginning Monday following the service, visit www.spencefuneralservices.com