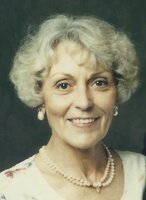 Gloria Ann Fisher
Gloria Ann Fisher, 83, of Elizabethtown, passed away on Wednesday February 9, 2022, at her home. Born in Lancaster, she was the daughter of the late Christian S. and Kathryn (Graybill) Leakway. She is survived by her husband of 63 years, Jere D. Fisher, Sr.
She was a 1956 graduate of Donegal High School and retired from Engle Business Equipment of Elizabethtown. Gloria enjoyed her family and being a host for many gatherings at her home that included friends as well. Everyone enjoyed her cooking and baking. Gloria had a passion for tennis and was still playing with friends at Lancaster Tennis and Yacht Club in the days prior to her passing. She was a kind and gentle person with a smile for everyone. Her artwork and many plants will continue to be cared for, by family, and appreciated for the memories they will bring of a wife, mother, and grandmother who had a great love for us all.
In addition to her husband, she is survived by her three children, Jere D., Jr., husband of Debbie (Crisler) Fisher of Lake Wylie, SC, Timothy S., husband of Diane (Hiestand) Fisher of Manheim, and Wendy F. wife of Karl Brenstuhl of Camp Hill; five grandchildren; four great grandchildren; and five siblings, Geraldine Cepluch (Donald), Marilyn Geib (Donald), Christine O'Conner (Art), Leslie Leakway (Sandy), and Kenneth Leakway (Linda). Gloria was preceded in death by a brother, Donald, and a sister Mary Kathryn Habecker.
A memorial service is rescheduled for SUNDAY, MARCH 13, 2022, at 2:00 PM at Chiques Church, 4045 Sunnyside Road, Manheim, PA 17545. There will be no public viewing. The family will receive guests during a luncheon at the church immediately following the service. To express a condolence with the family or for additional information, visit www.spencefuneralservices.com.