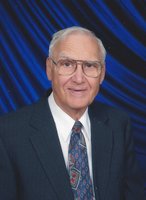 Ernest D. Shenk
Ernest Daniel Shenk, 90, of Manheim, PA, formerly of Sego Sago Road, Lititz, passed away on Saturday morning, August 31, 2019 at Pleasant View Retirement Community in Manheim. Ernest was born on December 8, 1928 to the late Harvey and Sylva Gingrich Shenk. He was the loving husband of Marian Stauffer Shenk for 68 years. They were the parents of five children, Dale, husband of Karen Fast Shenk, of Goshen, IN parents of Ben (Krista), Philip (Anne) and Emily, John, husband of Linda Ginder Shenk, of Lititz parents of Jonathan, Peter (Erin) and Andrea, Christine, wife of Boniface Oetama, of Lititz parents of Angela Oetama-Paul (Jacob), Nicole Oetama (David Mauer), Kevin, husband of Ellen Satterfield Shenk, of Spring Grove parents of Abby (Robert Schreffler) and Matthew, and Tim, husband of Beth Hershey Shenk, of Elizabethtown parents of Ryan and Laura (Derick Esch); eight great grandchildren; and two siblings, Ellis, husband of Carolyn Shenk, of Maryland and Alma, wife of Carl Herr, of Indiana.
Ernest graduated from Myerstown High School in 1945. Over the course of his career, he worked for the Myerstown Trust Company, Myers Metered Gas, J.W. Nauman Lumber and S. Clyde Weaver for 40 years. He enjoyed his work and worked fulltime until the age of 77.
Ernest appreciated music and liked playing piano by ear. He also enjoyed traveling and driving in the U.S. and abroad. At age 47, he rode 650 miles on a bicycle trip from Pennsylvania to North Carolina with two of his sons. He was an active and dedicated member of the Lititz Church of the Brethren where he served as a Sunday school teacher, church historian, and commission chairman. He also served as a deacon for over 40 years.
The family wishes to thank the Pleasant View Communities staff for their kind and caring support of Ernest.
A funeral service will be held on Monday, September 9, 2019 at 11:30 AM at Lititz Church of the Brethren, 300 West Orange Street, Lititz, PA 17543. The family will receive guests at a viewing on Sunday, September 8 from 5:30-8:00 PM at Hoffer Auditorium at Pleasant View Retirement Community, 544 North Penryn Road, Manheim and at the church on Monday from 10:30 AM until the time of the service. Interment will be private at Chiques Cemetery in Manheim. Please omit flowers. If desired, contributions may be made in memory of Ernest to the deacon's benevolence fund of Lititz Church of the Brethren. To express a condolence with the family or for additional information, visit www.spencefuneralservices.com.