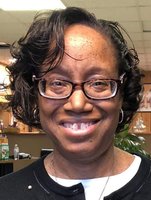 Robin B. Ott
Robin B. Ott, 61, of Elizabethtown, PA, formerly of Philadelphia, entered the presence of her Lord and Savior on Tuesday evening, August 11, 2020 at the Bob Fryer and Family Inpatient Center of Hospice and Community Care in Mount Joy following a long illness. Born in Philadelphia, she was the daughter of Elaine L. McCants-Bennett of Philadelphia and the late Elmer T. Bennett. She was the loving wife of Dieter Ott for 38 years on May 8.
Robin was a faithful member of St. Peter Catholic Church in Elizabethtown where she was active with the women's ministry and shared communion with shut-ins, including those at Masonic Village. She earned a Bachelor of Arts degree from the University of Miami and an MBA from Temple University. She was a certified public accountant and most recently was employed for 17 years as a CPA by Rite Aid.
Church and family were everything to Robin. She enjoyed spending time with her husband, whether it was taking long walks together, traveling, or frequently dining out. She and Dieter were making plans and looking forward to living part of the year in Elizabethtown and the other part in Dieter's homeland of Germany. Robin was also a voracious reader and enjoyed many trips with Julie to museums.
In addition to her husband and mother, she is survived by her daughter, Julie C. Ott of Middletown, and five siblings, Benjamin R. Holcombe, Jr. of Philadelphia, Troy A., husband of Sharon Bennett, of Upper Darby, Marc C., husband of Nestor Bennett, of Palmdale, CA, Besie L. Bennett of Philadelphia, and Kyndalle Kouyate of Philadelphia. In addition to her father, she was preceded in death by a sister, Aprille Wilkerson.
A Memorial Mass will be celebrated on Monday, August 17, 2020 at 11:00 AM at St. Peter Catholic Church, 904 Mill Street, Elizabethtown, PA with Fr. Bernard-Mary Ayo Oniwe O.P. as celebrant. Final commendation and farewell will be in St. Peter Cemetery immediately following the service. There is no viewing. The family will receive guests at the church on Monday morning from 10:30 AM until the time of the service. Following State guidelines for social distancing and wearing masks is required. To express a condolence with the family or for additional information, visit www.spencefuneralservices.com.