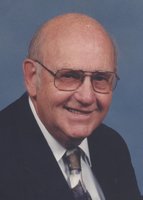 Earl L. Lokey
Earl L. Lokey, 94, of Lancaster, PA, formerly of Elizabethtown, went home to be with his Lord and Savior on Thursday morning, October 29, 2020 at the Bob Fryer and Family Inpatient Center of Hospice and Community Care in Mount Joy. Born in Londonderry Twp., Dauphin Co., PA, he was the son of the late Floyd and Anna Good Lokey. He was the husband of Eleanor E. Lokey for 71 years on October 20.
Earl was an active member of Christ Church United Church of Christ in Elizabethtown. Prior to retiring in 1994, he owned Earl Lokey, Inc. for 29 years. During that time, he operated and automotive repair shop and bulk milk hauling business. He was employed as a milk truck driver for 14 years by the late Walter Espenshade until purchasing the business. Previously, he was employed for 12 years as a delivery man by the former Hertzler's Dairy.
A 32nd degree Mason, Earl was a member of Abraham C. Treichler Lodge No. 682 F&AM in Elizabethtown, Lancaster Lodge of Perfection, Harrisburg Consistory, Lancaster Tall Cedars, and Hershey Shrine Club. He was also a member of the Elizabethtown Kiwanis Club. Earl and his wife enjoyed ballroom dancing for many years.
In addition to his wife, he is survived by two daughters, Pamela S. Bowman of York, PA and Sheila J., wife of Elwood Flowers, Jr., of Mount Joy; four grandchildren, Amy, wife of Joshua Williams, Heidi, wife of Andrew Hinkel, Carrie, wife of Mark Tracy, and Nathan, husband of Tina Flowers; and four great grandchildren, Sarah Hinkel, Noah Hinkel, Abram Tracy, and Luca Tracy; two siblings, Arlene Lokey of Elizabethtown and Mildred Ewing of Lancaster; and a brother-in-law, Raymond "Mick" Styer of Elizabethtown. He was preceded in death by three siblings, Edith Funk, Robert Lokey, and Jean Styer.
Services are private with interment in Good's Mennonite Cemetery, Elizabethtown. There will be no viewing. If desired, contributions may be made in his memory to Christ Church United Church of Christ, 247 South Market Street, Elizabethtown, PA 17022 or to Hospice and Community Care, 685 Good Drive, PO Box 4125, Lancaster, PA 17604. To express a condolence with the family or to watch a webcast of the service beginning Wednesday morning, visit www.spencefuneralservices.com.