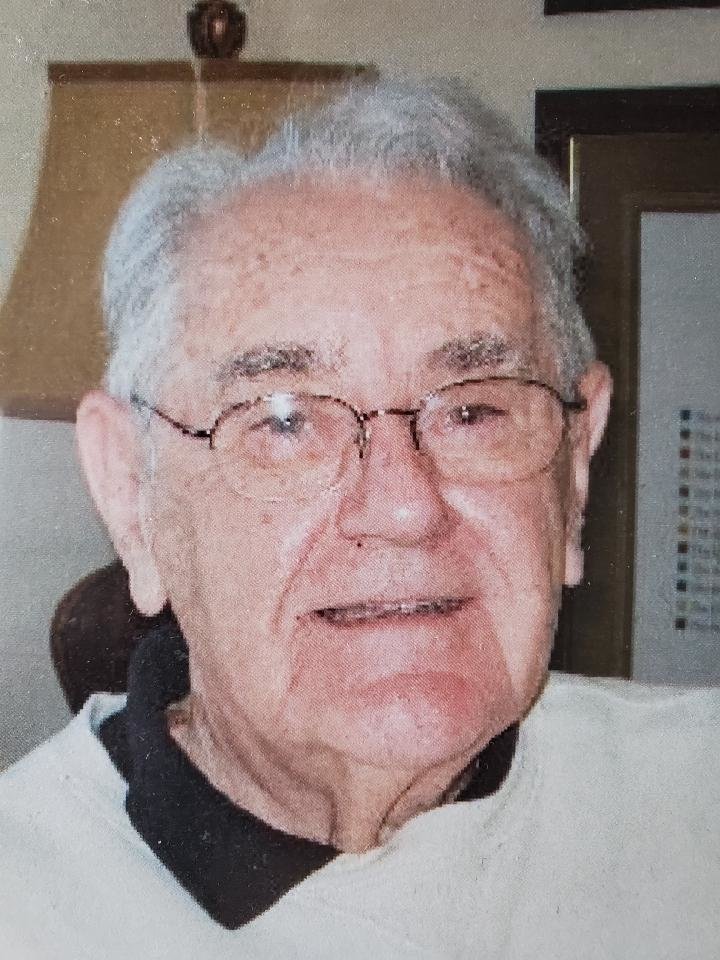 Obituary of Otis D. Kitchen
Otis D. Kitchen, 90, of Lititz, PA, formerly of Roanoke, VA and Elizabethtown, went to conduct heavenly choirs of Saints and angels on Tuesday evening, July 20, 2021 at Brethren Village. Born in Williamsport, MD, he was the son of the late Paul D. and E. Stella Byers Kitchen. After his mother died at an early age, Otis was raised and nurtured by his stepmother, Hazel Kitchen. Otis had a Brethren upbringing and was a longtime member of the Elizabethtown Church of the Brethren. He also served others as a member of the Rotary Club of Elizabethtown.
During the Korean War, Otis served in the United States Army and was an Administrator of the Army Band School at Fort Jackson, SC. He also taught 13 years in public schools in Emporia and Roanoke, VA, prior to his appointment to Elizabethtown College. Otis was a Professor of Music Emeritus at Elizabethtown College where he taught conducting, Instrumental Methods and was Director of Bands. He was also the founding director of the college's jazz program. His career spanning 1965 to 1996 on the campus afforded him the opportunity to polish young musicians' emerging musical talents and frequently showcase those talents in far-flung corners of the world.
Otis was a graduate of Bridgewater College of Virginia, the Navy School of Music, Northwestern University and received an honorary Doctor of Music from the National Conservatory of Mexico. He wrote articles for various music education publications and guest conducted and adjudicated musical groups in 35 states and 15 countries. One of Dr. Kitchen's high school bands played at the opening ceremony of the New York World's Fair in 1965; another of his All-American bands played in the "Sound of Music" church in Austria. His concert band at Elizabethtown College was asked to provide a recording of its performance for broadcast on radio stations in Switzerland.
Otis directed the Lancaster (PA) Youth Symphony and Honors Wind Ensemble in addition to his duties with the Elizabethtown College concert and jazz bands. He was founding director of the Elizabethtown College Community Symphony Orchestra and also founded the Lancaster County Music Camp. Beginning in 1953, he also served as a church organist with 35 of those years being at St. Paul's United Methodist Church in Lancaster.
Otis served on the board of directors and was chairman of the Eastern Division of the National Band Association and was presented their Citation of Excellence Award. He was an elected member of the prestigious American Bandmasters Association and held memberships in the MENC, PMEA, CBDNA, NBA, PCBA, PHI BETA MU, the American Federation of Music Clubs and the Musical Art Society of Lancaster.
Dr. Kitchen served as musical director of the Mexican Invitational Band Festivals, the London New Year's Day Parade, the Concert Festival held in the Royal Albert Hall and the Music Festival in Vienna, Austria. He also adjudicated at the Dutch Open Band Championship in the Netherlands and was a clinician at the Daytona, FL, NASCAR 500 Music Festival.
Otis served as musical director and conductor of the All-American Honors Concert Band in Portugal, Germany, Austria, Spain, Italy, France, England, China, Hong Kong, Mexico, Russia, and Hawaii. In June 1984, Pope John Paul II was so impressed with Dr. Kitchen's band as it played Sousa's "Stars and Stripes Forever" in St. Peter's Square that the Pope actually shook hands and conversed with the young musicians.
The National Conservatory of Mexico awarded him an Honorary Doctor of Music degree. Bridgewater College presented him with a Distinguished Alumnus Award, and he was selected as Distinguished Professor at Elizabethtown College. He also received the Citation of Excellence from the PA Music Educators' Association and the Keystone Award from the PA Federation of Music Clubs for meritorious work with young musicians. In 2000, Elizabethtown College chose Otis as a recipient of the Elizabethtown College Centennial Award in recognition of his positive impact on students and the college community.
His ability to call forth creative talents in young people has enriched their lives and inspired their audiences. He earned Bridgewater's acclaim as a maestro – A Master Teacher and Conductor.
Otis used a quotation to sum up his career: "To teach is to touch a life forever."
Otis is survived by two children, Sharon L. Cole of Middletown, and Gary W., husband of Mindy Mateer Kitchen, of Elizabethtown. Also preceding him in death was a son-in-law, Thomas Cole; and three siblings, Bernice (David) McKee, Willis (Betty) Kitchen, and Bonnie (Darl) Hinkle.
Two memorial services will be held. The first memorial service will be held on Sunday afternoon, August 8, 2021 at 2 PM at the Chapel at Brethren Village, 3001 Lititz Pike, Lititz, PA. The second memorial service will be held on Saturday afternoon, August 14, 2021 at 1:00 PM at Elizabethtown Church of the Brethren, 777 South Mount Joy Street, Elizabethtown, PA or by live webcast at https://www.youtube.com/watch?v=9Ahhxu3mX1s. There will be no public viewing. The family will receive guests for one hour immediately prior to each service. Light refreshments will be served immediately following the service at the Elizabethtown COB. Please omit flowers. If desired, contributions may be made to the Otis Kitchen Memorial Scholarship Fund c/o Elizabethtown College, One Alpha Drive, Elizabethtown, PA 17022. To express a condolence with the family or for additional information, visit www.spencefuneralservices.com.
Share Your Memory of
Otis
Contact
40 North Charlotte St.
Manheim, PA 17545
Have a Question?
There are some invalid fields.
Please wait...